November 29th, 2021
1. Tell us about yourself.
I'm originally from the Republic of Moldova, and I graduated from the Technical University of Moldova with a degree in civil engineering — a field I was drawn to by my love of math and physics. Through my university, I found out about opportunities to work in other countries — and Houston, Texas, seemed like a good fit. I ended up applying for a position with Woven Metal Products as a draftsperson, and I'm still here eight years later.
2. What's your role at Woven Metal Products (WMP)?
I'm currently the drafting lead project manager, and I've been doing this role for the past four years. Prior to this role, I was a draftsperson and eventually worked my way up to the supervisory role I have now.  I oversee the other draftspeople on our team, helping them plan projects, assigning projects to the right specialist, and reviewing the team's work before it's fabricated. I also review plans from outside vendors, as well as analyze everything that comes from our shop.
My team is in charge of designing custom products from customer orders, using our engineers' calculations and ensuring everything will fit and work together, while accomplishing our clients' goals. We also provide design drawings for customers who need them. Once we have all the parts of a product designed, we package it up for our craftspeople in the shop to fabricate — and we collaborate throughout that process if adjustments are needed along the way.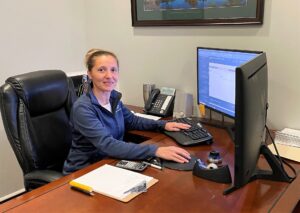 3. What's the best part of your position?
Seeing an idea come to life is amazing. I remember with my first project here, my supervisor handed me a piece of wrinkled paper with a sketch on it. I got to see that sketch become an actual product that affects the lives of so many people. I get to see that happen every single day.
4. How do the products WMP fabricates affect people's everyday lives?
If you look at one of the distributor trays we design and fabricate, you might think it's just a piece of metal with random holes in it. But these trays go into reactors where they separate a catalyst and end up producing gasoline. Every time I fill up at the gas station, I think about our involvement in that process, and I'm proud to be part of it.
5. What's a surprising part of your job others might not know about?
People might think that as head of the drafting department, I'm drawing lines and circles all day. But my work is so much more than lines and circles — it's getting a project and making sure a customer's idea is carried out with their needs included. It's meeting their deadline and working to source the necessary materials, which is tough in today's market. Bottom line: this role isn't all technical — it's much more than just design work.
6. Tell us about your team. How do you all work together?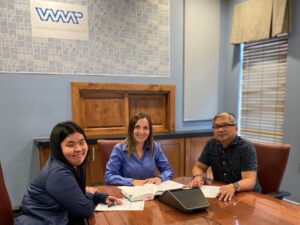 I'm fortunate to have them; as the saying goes, "you're only as good as your team." We try to keep a positive environment, even when things get stressful. It helps us develop and create new ideas for the problems we have to solve. Our policy is open communication, so we can effectively work together to solve challenges. That's what makes us successful.
7.What does a typical day look like for you?
It changes day-to-day, but typically, my team has a morning meeting to get on the same page about priorities and what is expected from each member for the day. Next, I go over the projects I'm heading up, make sure they're on schedule, and take actions to move things along according to the timeline. Next, I review packages my team has made and ensure everything is clear for the shop. Then we move into a production meeting with the shop foreman to release jobs to them. We talk through any questions they have and get them the answers if needed to start fabricating. After that production meeting, my daily activities can range quite a bit: getting new projects underway, working through new priorities, scheduling and planning. It's busy!
8. What advice would you share with others considering this industry? What about other women?
If you're a fan of math, definitely look into civil engineering careers! It's a roller coaster that you never get off. I was the only woman in my class of 24 in college. But at the end of the day, we are all talented team members and colleagues working together. I'd say to women, as long as you love what you're doing and are doing your best, it doesn't matter what type of industry you go into. Do your professional best! There's plenty of opportunity in this field.
Learn more about Woven Metal Products at https://wovenmetal.com. Follow WMP on LinkedIn and Facebook for the latest news.